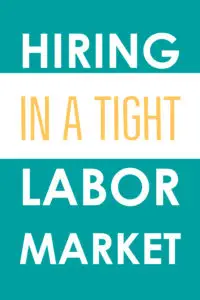 Who knew?! Just 24 months or so ago it was not terribly challenging to find an available pool of potential good employees to add to your team.  A simple office admin job post would yield 300 or so applicants, maybe more.
But here we are now, a couple years later and a small business owner will be lucky if they get 50 people applying to that same role.  I recently learned of a long-time house cleaning company who had to close its doors even though they had tons of paying clients, because they could not find enough workers to service their clients.  It is a scary proposition.
Our unemployment rate is at a 50-year low.  So what does a small business owner do in a tight labor market like this?  It is a challenge because small businesses do not have the deepest pockets, so paying top dollar, offering gold-star benefits, or wooing someone with big, fat hiring bonuses is rarely an option.
You have to get creative and keep at it.  Patience is required, which can be very hard when you have a business to run, clients to serve, and not enough employees to serve them.  But using a few of these techniques I'm sharing with you below, can help you get an edge up and find great talent.
Post your ad everywhere – Do not just post on one job board and craigslist, you have to cast a wide net. Look at local schools, put signs up around your community, sponsor events and have the advertisement feature your open positions. Use neighborhood sites such as Nextdoor or Alignable.
Use Indeed for sure – it is the most frequented job search site in the United States. Insider's Trick: Use it yourself as if you were an employee searching for your new position.  Search for the job title for which you are hiring and see how many related posts come up.  If it is a lot, you can bet your post will get lost fairly quickly.  If so, consider paying for an ad (they call it Sponsoring);– try a small monthly amount and see what happens.
Use Social Media – Post your job ads on your company and personal social media. Ask your team to post it on their social media as well and ask if they would add how great it is to work at your company. Look at Facebook and LinkedIn groups related to your industry and ask if you can post your open role there.
Offer Team Incentives – Offer your employees an exciting and attractive incentive to refer friends or other people they know in the industry. Make it a worthwhile amount if the candidate gets hired.  And even better than money is something personal or extra time off.
Reach Out to Career Coaches, Resume Writers – Contact professionals you know who might have contact with people you want to hire. For example, someone who does career counseling, resume writing or immigration law.
Use State agencies – Contact state agencies who administer unemployment benefits – do not assume those on unemployment are not great employees, most are collecting because of circumstantial reasons, like layoffs, businesses closing down, etc.
Offer creative and attractive benefits – Start thinking about ways to make it more attractive for employees to come work with you: bonuses, lengthier vacations, even gym memberships. Pump up the ways you show appreciation: with social events, breakfast goods in the morning once a week, etc. – get creative and have fun with this.  It's also great for retention:  treat your team like the gold that they are.
Use your company vehicles – Add a magnetic sign to each company vehicle that says "Now Hiring" with your phone number AND email address. Usually people will take note of your company name and look you up later but having your contact information is critical.
Network, network, network – Get out there, meet people, mingle, attend industry meetings, chamber events, networking events. Also think about where your potential employees might be hanging out.  In addition, solopreneurs might be interested in joining your team.  It is tough being self-employed and many would breathe a sigh of relief to get a good paying, challenging position.
Use Zephyr Connects – Seems like a lot? It is! We know tons more ways to seek great candidates and we'll gladly take the burden of recruiting off your hands. It's our Super Power – we keep a constant eye on candidates and can immediately start engaging with qualified candidates (before your competition gets to them first), and we do a fantastic job finding the right fit because we have a high aptitude for match-making, even in tight labor markets!  It is our full-time job to find Unique Fit™ candidates, we are effective, and we are affordable to boot. (Start the process by sending us an SOS)
While the market is tough right now, and as everything in life, this too shall pass.  In the meantime try some of these tips and above all, have patience and perseverance.  It can take months to find the right team member.
I would love to hear some of your tricks and ideas, so please add things that have worked for you in this tight labor market the comments section below.  And if something you tried did not particularly work, add that too.  We can all learn from each other!