This is a guest blog post by Traci Baxley 
While racism is not new, there is undoubtedly a resurge in energy around the discussions of historical and systemic race issues in the general public. The senseless deaths of Ahmaud Arbery, George Floyd, and Breonna Taylor have centered the debate of racism in all of our lives. Many business leaders are trying to make painful decisions about their role in the narrative.
"What should I say?"
"What if I say the wrong thing?"
"What if someone gets angry?"
Traditionally, it has been taboo for leaders in the workplace to discuss race and race issues, and are even counseled not to "see" race when making decisions that impact business practices. We are now seeing the consequences (again) of living in a racialized society and operating through a colorblind lens. The current racial tensions leave many leaders trying to figure out the best way to engage in meaningful and productive dialogue with their teams about antiracism and other socially charged topics.
Leaders have responsibilities in creating a culture of belonging for team members. If you seek information that will support you in having these hard but necessary conversations, I offer my BELONG framework as a starting place to explore your role.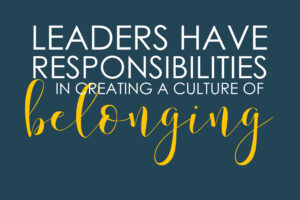 B – Be Intentional
Being intentional and clear about your company's mission, values, and inclusion initiatives is essential and needs to be top of mind before engaging in difficult conversations. It helps build consensus around the vision of your organization to improve the workplace culture.  Forcing a cultural change in a "command-and-control' manner can result in high resistance and increase tension. Make sure your values and cultural norms are explicit and communicated throughout the organization. The discussion should explicitly center on racial-justice issues within the company, and it should be clear to your team, where you stand on these issues.
E – Educate Yourself and others on the leadership team.
Educating yourself requires critical self-reflection and an openness to learning and growing. Commit to continuous personal and professional development, which may include unlearning and relearning. Please don't view the work of antiracism or diversity and inclusion work as a box to check. Instead, it is a continuous practice of understanding your own conscious and unconscious biases. If you have affinity groups in your organization, spend time listening to them, without excuses, or judgment, or explanation. Just listen and familiarize yourself with the challenges that others face. It's important NOT to expect team members from underrepresented groups to educate you. As a leader,  your responsibility is to build relationships and provide safe spaces for dialogue and belonging.
L – Lead by example
If you want your team members to show up as their authentic selves, you have to do the same. I would encourage you to be vulnerable. What I am asking of you may go against more traditional leadership styles, but there's something special about a more humane, servant leader. Another way that you can lead by example is by holding yourself and others accountable in daily interaction with others, keeping the values of the company and the humanity in each team member in mind. Create a culture where leadership and team members are engaged in ongoing dialogues with one another, sharing experiences and issues encountered at work, and how your company can change to be more inclusive.
O – Operate from a place of honesty.
Everything you do needs to be genuine, even when you don't have all the answers, or it is entirely new to you, like talking about antiracism. Your team can see and feel when what you are saying and doing is not coming from a place of honesty and trustworthiness. It's much easier to have a discussion around race and inequity from a macro level in society.  Instead, engage in the more challenging work and focus inward, on the micro-level, and talk about these inequalities within your own company (hiring, promotion, voices, valued experiences). Being transparent during these uncertain times builds community and demonstrates your commitment to the team and the company.
N – Navigate and negotiate sociocultural tug-a-war
We all have varying experiences, beliefs, and values, and sometimes they may clash. As a leader, it is vital you are equipped to navigate these situations, always from a place of belonging, as they arise. Establishing a culture where colleagues feel safe to express themselves begins with your policies and practices. Do you have a specific conflict resolution procedure? Do you have a work culture where conflicts are addressed and unpacked healthily? Leaders must listen with the intent to understand someone else's lived experiences,  and not just put out immediate fires. Most importantly, be open to different viewpoints, be transparent when you have made mistakes, and work toward restoration.
G – Get serious and get support.
You have expertise in many areas. Diversity & Inclusion is probably not one of those areas. Bring in trained consultants who are specially situated to help companies address institutional problems and practices. Their outside perspective can assist you in finding blind spots within the company that keep you from creating an environment that can thrive and grow when discussions on racial justice and other difficult conversations are at the forefront.
Ideally, you want to create a space where there is a culture of inclusivity, where leadership and team members can talk openly and regularly. This way, when more complex issues, like racial justice, come up, everyone is more likely to engage in the conversation in ways that feel constructive and impactful. Finally, it is essential to know that topics like this can no longer be ignored. It impacts employees' everyday lives, which ultimately affects your business.
About Traci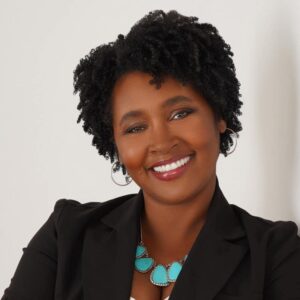 Traci Baxley is the founder of Social Justice Parenting. Traci is a cultural and race identity coach, supporting families in creating safe spaces of belonging for children. You can learn more about her at www.SocialJusticeParenting.com